Favorite Vacation/Getaway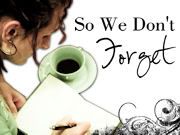 Lynette's theme for this week's "So We Don't Forget" is to talk about our favorite vacation/getaway.
Every getaway is SO much fun and is nice to just get away from everything with or without the kids! But the one that comes to mind first is when I planned a surprise trip to Vegas for my husband's birthday! He is a big David Copperfield fan, and Copperfield was going to be in Vegas which is not that far from us. Soooooo....I researched and found out the the cheapest time to visit Vegas is in their almost only off-season: two weeks before Christmas. People come to Vegas for Christmas, but I guess tourism drops way down right before it. Chase's birthday is January 12th, so we celebrated early, but anyway is worked out for us!
We got a couple of nights at the New York New York for $70! We also stayed one night in a time share that our Pastor is a part of and that was fun! :)
I arranged for the girls to stay with my sister and we took off! Our first childless (and teenagerless :) trip since the honeymoon! We got there, found our room and mosied on down the strip. We visited stores and hotels. Mostly we got the lay of the land. We found a ginormous mall where we went to Build A Bear and built Chastity a bunny that would be her Christmas present. That bunny would be what is known to our church as "the" bunny. The bunny continues to be her favorite doll, although it doesn't get dragged everywhere like she used to.
Anyway, I started feeling sick and we went back to the hotel, where, wouldn't you know-I had the flu!!!! SO not cool! So I was up all night and Chase was stuck in all night! By the next morning, I was feeling a little better but was not in any mood to ride roller coasters like we had planned! Such a bummer! But we still had a great day, checking out the M&M's store, walking through all the stores. There is this one hotel/mall that while walking through it, it feels like you are outside. The ceiling is painted like the sky and they even get thunderstorms with rain! SO fun! We ate at a little pizza place and watched the thunderstorm. :) While in the mall, we were approached and asked if we could participate in a tv survey and would get either $25, or tickets to the wax museum or a gondola ride. We had looked at the wax museum and had decided that it was way too expensive and so this piqued our interest! We ended up taking the survey that included watching an episode of Boston Legal (yuck) but we got our tickets to the Wax Museum.
It was funny, you would walk into a room and think there were all kinds of people in there, only to discover that we were standing in a room full of wax figures! :) But fun- Julia Roberts, J-Lo, Stevie Wonder, President Bush, Bono...all there!
Copperfield's show was SO much fun!!! Kinda funny, I had bought a dress specifically for the show but got there and couldn't find it or Chase's suit anywhere! Otherwise the only clothes we brought we comfy walking clothes! So we showed up to the show a bit underdressed, but had a blast! :) He did some really cool illusions. We would totally go watch again! ;)
We also went to the Cheesecake Factory to visit a college girlfriend of mine who lives in the area. It was good to catch up and of course the Cheesecake Factory is AMAZING!!! But I am a sucker for good cheesecake! :)
We also went to the exhibit with sharks/gators. It was ok. It was still really new and so it wasn't really worth what we spent on going, but it was still cool.
I love the fountain show at the Bellagio! So cool!!!!! LOVE IT! But learn from our mistake and do NOT see the Treasure Island show. Yes, it is free, and I heard that it was family friendly...well, no more. It was pretty awful and we wanted to leave but couldn't because we were CRAMMED on that street corner. So Chase looked into the sky the whole 20 minutes of over-sexed scantily clad female pirates tempting the male pirates over to sleep with them...and they all did. It was really yucky. Vegas definitely has it's down sides.
Before we left, we were sure to visit a Hard Rock Cafe. That was WAY cool. All the memorabilia in there was fun to look at, and the food was good too. That was fun!
Anyways, we had some great time together-in Vegas! And it didn't even include drinking or gambling. (Although we were offered some drugs!) And just to clarify, we weren't against using like $20 at a slot machine and that was it win or lose. But once we got there, we decided there were much more fun things to use that $20 on. :)
It was just fun. And it was really good to just be together! We are hoping for a follow-up trip!
Oh, and we found our "fancy" clothes...they were in our bedroom hanging on the door when we got home! LOL
I am having a hard time finding the pictures we took!!! SAD! If I find them, I will have to add them later. Sorry!