So We Don't Forget-Our First Home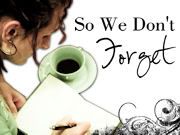 That time again! This time to post a memory about the first place you lived in after you got married. :)
Yay!!! I love "just married" memories!
This month, (on the 17th) we celebrate our 5th anniversary so it is an especially good topic!
We lived in our first house for not quite a year. How it happened was Chase and this other guy Todd were both interning at the church. There was a couple who owned a home here as a "summer home" and went to our church when they were up here. Anyway, they found out about the interning guys and let them live there for the summer since they weren't going to make it that year. As the summer went on, Chase was hired on as the youth pastor and we decided it was a great time to get married. So the couple let us rent it from them (for some amazing amount...like $300 a month if I remember right...and you have to know that in this area, it is normally cheaper to buy than rent!) so I moved my stuff in a couple weeks before we got married, lived at a friend's house until the wedding and then, TA-Daaaah!!! Our first home!!
Was a great house for the time...2 bedrooms, a spacious living room which worked well for having the teens over. The kitchen was great....TONS of cabinet space I didn't know what to do with! My favorite part was the Master bathroom....it had a whirlpool tub in it!!!! That tub was really nice since three weeks into married-hood, I got pregnant! I have to admit that most of my memories of that house are memories of me throwing up somewhere or jumping into the shower after just having thrown up! LOL For awhile, just walking through the kitchen would make me run to the bathroom...just because I knew there was food lurking behind cabinet doors...crazy! :)
It was in the living room that Chase and I were looking through a baby name book and trying to find a middle name for the little girl we had coming...we found Peaches and laughed over how funny/ridiculous that would be to name our poor daughter Chastity Peaches.....but it totally stuck and for the longest time, everyone just called her Peaches! The Grandparents all did tell us we were crazy and awful, but her name just suits her and now everyone agrees. :)
I had a lot of fun making Christmas cookies in that kitchen with some of my teen girls...they are all grown and gone now...although one is married and lives here in the area. :)
It was a vacation spot neighborhood so that winter was really quiet since I had no close neighbors...I didn't really like that. Also, I had moved here from Palm Springs, CA, and I had been told that while, yes we do get snow up here in this part of Arizona, the winter is really mild. Well, as it turned out, we had record snowfall that year and record cold weather! LOL Even pregnant I was freezing!
On the up-side, because the rent was so low, Chase was able to save up to buy a house much more quickly. We even considered buying that one, but decided we needed a yard (this house had next to no yard.) and more bedrooms since we were planning on having more kids than just the one!
So eight months pregnant we closed on our home. :)
I still drive by the old house occasionally and tell the kids about it.
And boy, do I miss that bathtub! ;)