Harvest of Friends Blog Party!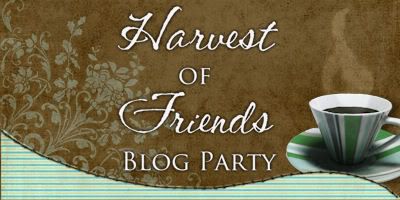 So one of my FAVE bloggers is having a Blog Party! Click on over to join in the fun and meet other bloggers! :)
Here are Lynette's questions to give you some fun insight into me! :)

1. What is your favorite thing to snack on while you're blogging?
Double Stuffed Oreo's and Chai Tea....my fave tastes in the world!!! No wonder I still haven't lost all that baby weight yet! ;)
2. What is one thing you wouldn't want to live without?
My camera!!! I am just beginning photography and trying to learn more and get better at it, but even the worst pictures have a memory! I love having millions of pictures of my kids because my mind doesn't work well these days and so it is nice to be able to look back and remember events, seasons in life, etc. :)

3. Beach, Mountains or Farm? Where would you live if you had a choice?
Hmmmmm....seriously I have to pick????? I live in the mountains now and love it! But I also want a farm and sure wouldn't mind living close to the beach! So......really, I can't pick!!!

4. What's your least favorite chore/household duty?
Does this mean that some people have favorite chores???? Astounding....
My least fave would be putting laundry away probably. :) I am getting a sign though that says "I'm thankful for my piles of laundry-it means my loved ones are nearby..." because really, I need that reminder! ;)

5. Who do people say you remind them of?

Yasmine Bleeth
Amy Lee (from Evanescence)
Charlotte Church
Here I am! And one of my amazing teen girls, Kaitlyn. :)

6. Prefer parties and socializing or staying at home with the fam?
Parties with whom???? My very close friends??? I am so there!!! Otherwise, I would rather stay home with my family. :)
7. What's your all time favorite movie?
Just one???? I LOVE movies!!! "Newsies" is definitely at the top of my list but my most-watched would be "Little Women" and "Pride and Prejudice." Sorry, that is three!
8. Do you sleep in your make up or remove it like a good girl every night?
Sleep in it unless I take a shower before bed!
9. Do you have a hidden talent or a deep desire to learn something that you've never had a chance to learn? What is it?
I really really really want to be a better photographer. Also, I am excited about learning HTML.
10. What's one strange thing you're really good at?
Ummmm...stepping on crunchy leaves??? Sitting out in the rain???? I have no idea! lol
11. What first attracted you to your spouse?
His charisma. His ability to be friends with anyone. His working knowledge of God and His Word and how he stands unwaveringly on those topics.
12. What is something you love to smell?
Autumn candles...clean sheets...my husband!
And when I typed that out and re-read it, I wanted to clarify that I didn't mean all at the same time....although.....
13. Tell something about you that you know irritates people.
I am not as organized as most of my friends and being the youth pastor's wife normally makes me the boss or leader in many church situations. Apparantly, in those situations I am not good at conveying what I want and need or what is going on to my helpers even though I of course have it all laid out in my head! ;)
14. When you have extra money (HA!) what's the first thing you think to do with it?
Stuff for the house...curtains, signs, decorations, paint...stuff like that. My home is a work-in-process...very much like me! :)
15. Are you a silent laugher or a loud laugher? What makes you laugh the hardest?
Depends on the situation...although my laugh has been really loud the last couple of days and it has been bugging even me...lol...ok so that one was silent! ;) But it isn't as much fun to put ls (laughing silently) and no one would know what it meant anyway...
Laughing the hardest...my kids normally!
16. Where is your favorite place to shop?
TARGET!!!! Even the smell of Target is amazing...
17. What's one thing you'd do more often if you had more time?
Blog
18. Are you a big spender or frugal?
Normally super frugal....although every now and then I buy stuff I don't need just because it is fun...
19. Who is your favorite character of all time (from a movie or book)? (Can't be real)
Susan Vance, played by Katherine Hepburn in the movie "Bringing Up Baby" with Carey Grant. Another one of my favorite movies!!! I can watch it over and over again!
20. Would you want to be famous?
Maybe as an author...I don't know though. I wouldn't want it to go to my head. :)
YAY! Looking forward to your answers and getting to know more of you!