Miscellany Monday- and Day Ten!
I am linking up again with Miscellany Monday!!! I LOVE reading other's miscellaneous thoughts and happenings! Too fun!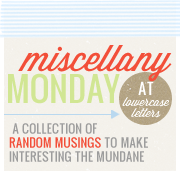 So anyways, here is a taste of my randomness!!
1. Where I live, we get some serious monsoon rains and I am in HEAVEN. I LOVE rain. The smell, the look, the way it cleans everything up and makes it greener. I love that it makes our hair soft and the dog fur soft. So amazing!
But lately it has mostly been teasing. BIG beautiful, gray clouds, some lightening and a few sprinkles. SO COOL! But torturous nonetheless. I am still waiting for the daily multiple down-pours of water that usually comes during monsoon season. SO EXCITED! One of the things I love about where I live. :)
2. Last night after church, my sweet boy Van fell out of the Suburban. He has the hardest head I have ever known anyone to have and it HURT. He somehow fell face first even though my brother and I both thought he hit the back of his head. It really looked like it.
Here he is soon after... :(
Poor baby. He bit his tongue, scraped and bruised up the right side of his face and hit HARD. He was upset for a really long time...I felt SO BAD! I took him home and read online about concussions and symptoms to look out for. I fed him M&Ms (which has NEVER happened before) he got to stay up late with Mommy and watch some Elmo and then Mommy shows. Then he slept in our bed so I could keep an eye on him and wake him up to make sure he was conscious and so on. He is doing better today but looks worse I think. His right eye has gotten really swollen and bruised...I think it is going to be a pretty good shiner. And yes, that is a barrette in his hair to keep his hair out of the goop. Last night when I put this pic on facebook, he kept pointing to it and saying, "Evan, ouch. Evan, owie." And I felt bad all over again.
3. My middle daughter Harmony hit her private part on a chair this morning. It took me awhile to figure out what she was talking about because she was calling it a "diamond." ????? "Mommy, I hurt my diamond!"
I am not sure where she got diamond! lol! I try to teach my kids the proper wordage for their body parts because I heard that pedophiles are less likely to mess with kids that call their anatomy by the proper words because it indicates that the family talks more openly and honestly than others about sexuality, and safety regarding sexuality. But despite my best efforts, my oldest daughter Chastity has always called it a "Gyna." I could spell it with an i, but then it looks exactly like my name.
Awkward.
Today though, my oldest daughter was concerned about Harmony's "diamond" and asked about it. Only now Chastity is calling it an "angina." (Isn't that a heart condition????)
Someday maybe they will get it right, but until then I will be glad that unlike my stinkin' adorable niece, my kids don't call the UPS man, the "penis man." LOL
My sister was getting REALLY concerned who the "penis man" was and then they figured it out...
Sorry if you were offended. ;)
4. I have been participating in a 30 Days of Music challenge! I did miss yesterday, but today I am on day TEN!!!
Here is the list again in case you want to join in:
day 01 - Your Favorite Song
day 02 - Your Least Favorite Song
day 03 - a song that makes you happy
day 04 - a song that makes you sad
day 05 - a song that reminds you of someone
day 06 - a song that reminds of you of somewhere
day 07 - a song that reminds you of a certain event
day 08 - a song that you know all the words to
day 09 - a song that you can dance to
day 10 - a song that makes you fall asleep
day 11 - a song from your favorite band
day 12 - a song from a band you hate
day 13 - a song that is a guilty pleasure
day 14 - a song that no one would expect you to love
day 15 - a song that describes you
day 16 - a song that you used to love but now hate
day 17 - a song that you hear often on the radio
day 18 - a song that you wish you heard on the radio
day 19 - a song from your favorite album
day 20 - a song that you listen to when you're angry
day 21 - a song that you listen to when you're happy
day 22 - a song that you listen to when you're sad
day 23 - a song that you want to play at your wedding
day 24 - a song that you want to play at your funeral
day 25 - a song that makes you laugh
day 26 - a song that you can play on an instrument
day 27 - a song that you wish you could play
day 28 - a song that makes you feel guilty
day 29 - a song from your childhood
day 30 - your favorite song at this time last year
Today is, a song that makes me fall asleep...I got nothing.
So I guess instead I will share a song I sing to my kids at bedtime...I once told the kids that I sang this song to them when they were each in my tummy and now they want to hear it all the time. I do skip the first verse because that is more for teenaged girls than in-utero babies and small children. ;) But he did write this for his teenage daughter so...anyways!
"Fingerprints of God" by Steven Curtis Chapman
chorus:
And I can see the fingerprints of God
When I look at you
I can see the fingerprints of God
And I know it's true
You're a masterpiece that all creation quietly applauds
And you're covered with the fingerprints of God
verse two:
Never has their been and never again
Will there be another you
Fashioned by God's hand
And perfectly planned
To be just who you are.
And what He's been creating,
Since the first beat of your heart
Is a living breathing priceless work of art.
Happy Monday!!! If you want to share your own bit of miscellany, click on the typewriter button above to link up!!!